Around 6 months ago Chelsea and I decided we wanted to live on a boat. We figured what better time than now, and what better place than the San Francisco Bay. It's been a crazy journey so far, and I'm often asked so many questions that I thought I'd put some of the story down in writing to share.
What insanity would make a person decide to live on a boat? My wife grew up taking trips on a 36' boat with her family across North Alabama and Southern Tennessee. So, she is quite accustomed to being on the water. My family always loved the water but wasn't big into boating. So I mostly went out with friends on runabouts and other personal watercraft. Ever since being around Chelsea and her family I've had a growing desire to own a boat. We've daydreamed about having a boat and leisurely sailing around the carribean, taking our time enjoying the islands. Well, we're not there quite yet, but we are one step closer.
Once we decided to start looking at boats, we looked on Yacht World and chatted with local brokers. We soon realized that we'd be looking for something in the mid-1980s to mid-1990s range and between 40 and 50 feet in length. After looking at many in the SF Bay and spur-of-the moment road-trips to Portland and San Diego, we finally found the right one - Odyssey, a 1987 Hershine 42 Sundeck.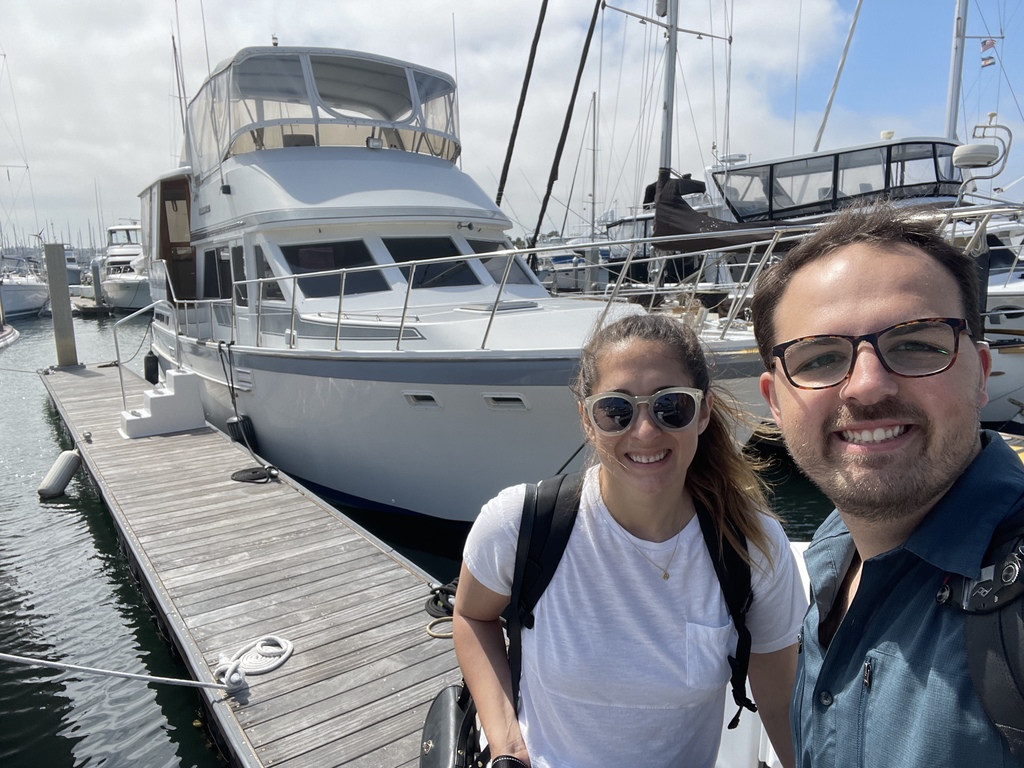 Along the way we met many people who were extremely helpful including Barney Fie with Richard Borland Yachts in Alameda, CA and Kirk with W.S. Yach Brokers in Portland, OR. If you're in those areas and looking for a broker, reach out to them!
After having a survey (inspection) done and negotiating with the seller, we finally became the owners of our own boat! Now for all the fun things - securing an insurance policy, maintenance to satisfy insurance, upgrades to make life easier, changing the name, getting U.S.C.G documentation, moving it from San Diego to San Francisco, and so much more. I'll leave many of these for later, but just know there's a ton of work involved. Unlike buying a house where all the paperwork and insurance are standard, sellers must legally disclose certain information about the house, and prices for services are generally competitive, these things are much less standardized for boats. It's definitely buyer-beware when purchasing a boat.
We also needed to secure a slip that allows living aboard the boat. This can be quite difficult since the California BCDC caps the number of liveaboards at 10% for marinas. Fortunately we were able to find one at a great marina in the bay - more on this later.
Soon after taking possession of the boat, we started making plans to take the boat north, and that's where the story gets interesting.